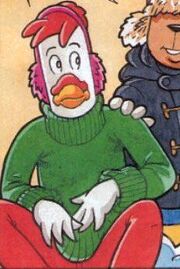 Basil Poultry is the Zone Leader of the Tower Hill Zone. The turkey is extremely uptight and is seen bossing his citizens around in order to get a perfect Christmas now that Doctor Robotnik has gone. Unfortunately, the stress of the occasion and many mishaps see Poultry lose his mind, proclaiming that Christmas is now cancelled. He somehow acquires a battle mech and proceeds to ruin Christmas for many individuals. Fortunately, his rampage is halted by a visiting Tails and the people forgive him. Poultry soon realises the error of his ways and enjoys a peaceful Christmas with his friends.
Poultry was still the Zone Leader of Tower Hill many years later and organised its defence against the New Robotnik Empire. To assist them, Poultry made a deal with The Family, ensuring protection in exchange for money and favours.
Trivia
"Basil Poultry" is an obvious parody of popular comedy character Basil Fawlty.
Appearances
Ad blocker interference detected!
Wikia is a free-to-use site that makes money from advertising. We have a modified experience for viewers using ad blockers

Wikia is not accessible if you've made further modifications. Remove the custom ad blocker rule(s) and the page will load as expected.