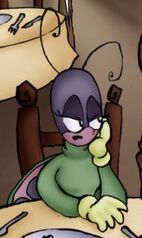 Chrysalis
is a
butterfly
and
Special Zone
immigrant, and works as a fashion consultant. She's a good friend of
Amy Rose
and the two eat regularly at
Buddy's Bistro
.
She was first called in to suggest a makeover for Sonic the Hedgehog (who mistook her for a member of The Family) so he could improve his image. Sonic was having none of it.
After Sonic was believed to have turned evil, Chrysalis tried to cheer up a despondent Amy. The heroine would get out of her funk while Chrysalis spent ages trying to explain how you make a coffee to Big the Cat.
When Doctor Robotnik declared war, she continued her association with the Freedom Fighters: she gave Pippa a makeover on her visit to Mobius, and has also befriended Holly Thumpfoot from The Ultimax. Sadly, she's also a fan of Fabian Vane...
Appearances
Gallery
Ad blocker interference detected!
Wikia is a free-to-use site that makes money from advertising. We have a modified experience for viewers using ad blockers

Wikia is not accessible if you've made further modifications. Remove the custom ad blocker rule(s) and the page will load as expected.