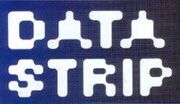 The
Data Strip
was a feature in the print
Sonic the Comic
for several years. Usually found within the
Next Issue
section, it was a way for the editorial staff to get feedback on the current issue and perhaps plan for future stories.
In the style of a form, the strip contained several areas to fill in:
"Who Are You?" - name, address and age, even though these were perhaps confidential pieces of information that didn't need to be provided.
"Hot-Shots Only!" - information for the ill-fated The Mega Challenge, where high scores would be shown and congratulated. Questions included the game in question, the score/achievement and the console it was done on.
"Mega Hits This Issue" - Boomers list their favourite stories this issue, in order of preference. Even though there were four stories, only three spaces were given, although it'd be fairly obvious what the worst story was with this layout.
Rating - a box for readers to enter a percentage rating for this issue.
Redesign
When the comic was redesigned in Issue 58, the Data Strip replaced the Hot-Shots Only! section with two others:
"My Favourite" - a redundant section, asking readers to supply their favourite film and band/singer.
"My Sega System" - six boxes for readers to say whether they owned a Mega Drive, a Master System, a Game Gear, a Mega-CD, a Sega Saturn, a Multi-Mega or a 32X.
Discontinuation
Issue 94 was the last time a Data Strip appeared. A letter appeared in Speedlines, questioning the point of the Data Strip, so Megadroid announced there would be no more strips and thanked everyone for sending them in the past.
As of yet, the Data Strip has not appeared in Sonic the Comic Online, although there are often requests in the Message Zone for new ideas or pitches for other Sega strips, quite like the Data Strip's idea.
Ad blocker interference detected!
Wikia is a free-to-use site that makes money from advertising. We have a modified experience for viewers using ad blockers

Wikia is not accessible if you've made further modifications. Remove the custom ad blocker rule(s) and the page will load as expected.