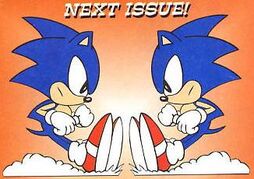 Not to be confused with Double Sonic (story).
Double Sonic is a series in Sonic the Comic. It was conceived as an extra chance to see Sonic the Hedgehog in an issue, effectively replacing the Sonic's World banner.
List of stories
All of the following stories were written by Lew Stringer.
Revival
The Double Sonic series was briefly revived in Sonic the Comic Online as part of Issue 271's The Ending of Things! stories. Although the first story was, as usual, a Sonic story, the revised timeline was marketed as a separate story under the Double Sonic banner. Unlike the print edition that saw Double Sonic replace Sonic's World, this issue also featured two of the latter strips.
Ad blocker interference detected!
Wikia is a free-to-use site that makes money from advertising. We have a modified experience for viewers using ad blockers

Wikia is not accessible if you've made further modifications. Remove the custom ad blocker rule(s) and the page will load as expected.