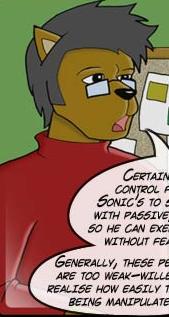 Dr. Ronald Bartholomew is a psychologist who once gave an interview as part of KBC documentary The Inside Story. Bartholomew is possibly a television psychology "expert", someone who gives his opinions of celebrities currently in the public eye. His view on Sonic is that, in the fight against Doctor Robotnik, the hedgehog was the "military" leader of the Freedom Fighters. Now that the danger is over, he still has the need to command and won't just sit back. Sonic needs to be in control. Ronald's words are then elaborated on by those who have been "controlled" by Sonic, including Chicio Marxio.
Later in the interview, Bartholomew is seen to say that Sonic likes to surround himself with passive characters so that he can dominate. This leads to Porker Lewis breaking down on camera (although this was due to being bullied about his "weak will".
Appearances
Ad blocker interference detected!
Wikia is a free-to-use site that makes money from advertising. We have a modified experience for viewers using ad blockers

Wikia is not accessible if you've made further modifications. Remove the custom ad blocker rule(s) and the page will load as expected.