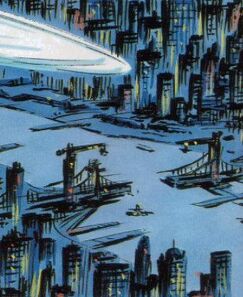 East River is a large aquatic feature that runs through much of the fictional city where Streets of Rage is set. The river is first seen in Skates' Story, where the Princess Grace ferry is moored. Mr X organises a charity ball to apologise to all of his critics, only for his real plan being to kill them all in an explosion. Fortunately, Skates learned of this plan and jumped into East River from the wharf, but didn't manage to stop the carnage. In his fury, Skates clung to part of the destroyed ship after the blast and attempted to kill Mr X, but was stopped by the river police.
The river became a major plot device in The Only Game in Town. Mr X began a bet, inviting gang members and corrupt police officers to guess how far Axel Stone, Blaze Fielding, Max Hatchet and Skates would get before being murdered. Should they manage to cross East River, all bets would lose. Upon learning of their fate, Blaze made a last-minute bet, placing ten thousand dollars on the possiblity they would make it beyond East River. Prior to this, a police helicopter sent by Feroccio had attempted to get them across the river, but was shot down by a bazooka. Their only option left was the Battle Wagon being driven by an injured Axel, hoping that momentum would carry them to the other side of the incomplete bridge over the river. They succeeded in crossing the river, but only narrowly avoided being impaled on a girder. The gang pulled themselves to the other side of the bridge and away from enemy gunfire, winning them the bet and their lives.
East River was known as Eastern River when Feroccio questioned Dan about the bet.
There is a real East River in New York City.
Ad blocker interference detected!
Wikia is a free-to-use site that makes money from advertising. We have a modified experience for viewers using ad blockers

Wikia is not accessible if you've made further modifications. Remove the custom ad blocker rule(s) and the page will load as expected.