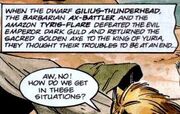 Elitta Fell is a letterer who worked for Sonic the Comic for almost all of its run. Fell contributed to the very first issue of STC and carried on until her last strip in Issue 169. Elitta has also lettered for a vast array of comics, ranging from Marvel, DC, Doctor Who and several independent series.
Fell's contributions include the entire Knuckles the Echidna series and the vast majority of Tails adventures. Main Sonic the Hedgehog stories are limited to several early stories and a number of adventures set on Shanazar.
Contributions
Non-Sonic comics
Specials
Ad blocker interference detected!
Wikia is a free-to-use site that makes money from advertising. We have a modified experience for viewers using ad blockers

Wikia is not accessible if you've made further modifications. Remove the custom ad blocker rule(s) and the page will load as expected.