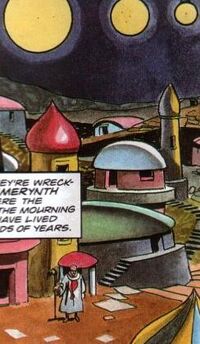 The Hammerynth Caverns is a large area somewhere in Yuria and is a totally underground location. The land is home to the dwarf population and a vast hoarde of enchanted metal protected by Queen Silpantia-Dragontamer. The caverns are surrounded by the stronghold of Rockguard, where Growlus and his fellow elders protect Hammerynth from attack. Unfortunately, the dwarf world came under threat from Cobraxis and his snake army, wishing to get hold of the special metal. Cobraxis and his wizard-priest Viprax traversed the winding caverns and kidnapped the Queen, hoping she would divulge the metal's location. Gilius-Thunderhead and Yuki-Plantcharmer followed them but were headed off by Viprax. Yuki was taken Cobraxis but Gilius was presumed dead after falling into one of the cavern's deep pits.
Although the world of Hammerynth is underground and entry is only possible from Rockguad by means of a cycle-lift, a group of dragons led by Cloudburner forced their way through the ground above to assist Silpantia. This meant a large hole now exists above Hammerynth, unless it was fixed by the dwarves. As well as the new skylight, light fittings are placed all along the roof to give the impression of the outside and so the inhabitants could see where they were going. At the end of the cavern is a large podium, where Cobraxis tried to kill the Queen.
Appearances
Ad blocker interference detected!
Wikia is a free-to-use site that makes money from advertising. We have a modified experience for viewers using ad blockers

Wikia is not accessible if you've made further modifications. Remove the custom ad blocker rule(s) and the page will load as expected.