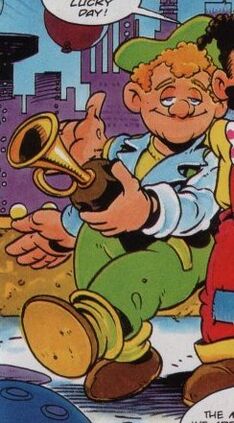 Harpio Marxio is the silent, almost unnoticed member of the Marxio Brothers. While Harpio is always present wherever his brothers Grouchio and Chicio go, he rarely seems to perform any outstanding activities, only following the occasional order Grouchio gives him. Harpio always dresses in the same attire: white collar shirt (with a red t-shirt underneath), green dungarees and a green plaid beret hat. He always seems to have a sleepy, content expression on his face and he carries a horn with him everywhere, which he occasionally honks in order to express certain emotions.
Harpio's name is a play on the comedian Harpo Marx, who never spoke during his performances.
Appearances
Ad blocker interference detected!
Wikia is a free-to-use site that makes money from advertising. We have a modified experience for viewers using ad blockers

Wikia is not accessible if you've made further modifications. Remove the custom ad blocker rule(s) and the page will load as expected.