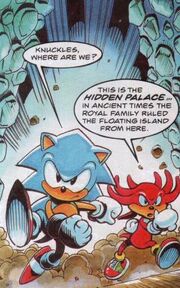 The
Hidden Palace
is a building on the
Floating Island
. In ancient times, the royal family ruled the island from here. The most notable room in the palace is the
Emerald Chamber
, home to the
Chaos Emeralds
and the island's current controls. Other rooms lead off from this central chamber, including living quarters, the
Guardian Emerald
and a store for
Guardian Robots
, amongst other things.
Hidden Palace originally appeared in Sonic & Knuckles (although it is in the beta edition of Sonic the Hedgehog 2) and was included in Sonic the Comic as part of the Sonic 3 & Knuckles story arc.
Appearances
Although the area is technically seen every time the Emerald Chamber is featured, the Zone was only named in one story:
Ad blocker interference detected!
Wikia is a free-to-use site that makes money from advertising. We have a modified experience for viewers using ad blockers

Wikia is not accessible if you've made further modifications. Remove the custom ad blocker rule(s) and the page will load as expected.