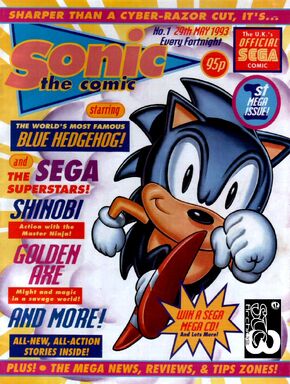 Issue 1
is the first ever edition of
Sonic the Comic
. Released on the 29th May 1993 at the price of 95p, the issue contains three original stories, several features and a
free gift
of stickers.
Contents
Strips
Sonic the Hedgehog
Enter: Sonic is a complete story, primarily a chance to show Sonic destroying some Badniks. Written by Alan McKenzie, drawn by Anthony Williams and lettered by Tom Frame, the story sees Sonic hearing of a new machine designed by Doctor Robotnik and heads to destroy it. After meetings with many of his friends in the Green Hill Zone, as well as a scrape with death, Sonic eventually tracks down the threat and absolutely wrecks it.
Shinobi
The Fear Pavilion is a 6-part story starring Joe Musashi that sees him search for girlfriend Naoko in a Neo Zeed pavilion. With writing from McKenzie, art by Jon Haward and lettering from Ellie de Ville, the story begins with Musashi infiltrating the complex, taking care not to kill any of the evil henchmen. After silently gaining access to the interior, Joe angrily demands to know the whereabouts of his lover.
Golden Axe
Citadel of Dead Souls is a 6-part adventure by Mark Eyles, Mike White and Elitta Fell. After finishing their last adventure, Ax-Battler, Tyris-Flare and Gilius-Thunderhead are trying to enjoy their time off, but are hassled by some lizards and a pair of minotaurs. Gilius and Tyris are captured by Ul-Tima and Rigia Mortius while Ax is presumably left to die. The heroes discover that the Golden Axe has been stolen by Sorcerer Blackspell in an attempt to revive the manic Dark Guld.
Features
The Control Zone, hosted by Megadroid, welcomes all Boomers to the first issue of STC, promising the 'hottest comic on the video game scene'. Megadroid kindly tells readers how to use the comic, advising people to read the strips, provide content and data. There's also a teaser for The Mega Challenge, a scrapped feature that encouraged people to send in high-scores for games. This issue's Sega Charts saw PGA Tour Golf 2, Mickey Mouse 2 and Sonic the Hedgehog 2 top the Mega Drive, Master System and Game Gear charts respectively.
This week's Review Zone, mostly presented by Tony Takoushi, had reviews for Tom & Jerry (70%), Road Avenger (75%), The Flintstones (85%) and The X-Men (70%). David Gibbon also reviewed James Bond - The Duel, giving it 79%. The News Zone covered the new models of Mega Drive and Mega CD and the Mega Drive version of Street Fighter II was previewed. UK Senior Saga Champion Karl Roberts was featured along with presenters Chris Evans and Violet Berlin. Short Bursts mentioned Jungle Strike, B.O.B. and two Sonic the Hedgehog Adventure Gamebooks.
The Q Zone was a general fare, with Takoushi and Gibbon giving tips and codes for Golden Axe, Golden Axe 2, Road Rash 2, Sonic the Hedgehog 2 and Alien 3. There were also Game Genie codes for Ecco the Dolphin, Sonic 2 and Streets of Rage 2.
Unique to the first issue, three sneak previews were given for forthcoming series which would bump up the comic content to four stories each. New stories included Streets of Rage, Kid Chameleon and Wonder Boy in Demon World. Finally, Speedlines included letters of praise, a short story about Tails, questions about Shinobi and an iconic letter from "Mr Oldfash". Entries received a Sonic 2 Badge.
Staff
Timeline
This is the first issue of Sonic the Comic, although an advertisement provided with certain publications is sometimes known as Issue 0. The next is Issue 2.
Ad blocker interference detected!
Wikia is a free-to-use site that makes money from advertising. We have a modified experience for viewers using ad blockers

Wikia is not accessible if you've made further modifications. Remove the custom ad blocker rule(s) and the page will load as expected.