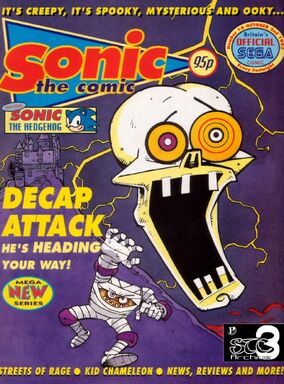 Issue 10
is the tenth edition of
Sonic the Comic
, the UK's official SEGA comic. Released on the 2nd October 1993, at the price of 95p, the issue contained four original stories (two of them new) as well as several features.
Contents
Strips
Sonic the Hedgehog
Megatox is a complete story by Nigel Kitching, Richard Elson and Tom Frame. Sonic, under the new disguise of Bob Beaky, has visited the Chemical Plant Zone to see what horrors his friends are being put through. After revealing himself and destroying all Trooper guards on duty, Sonic begins to lead the Emerald Hill folk home but soon has to get to grips with deadly chemical Mega Mack and Megatox, a disgusting new foe.
Kid Chameleon
Kid Chameleon is a 6-part story written by Michael Cook, with art from Brian Williamson and Steve White, lettering provided by Ellie de Ville. Suzi has been kidnapped by the Sewer Men, so it is up to Casey as Eyeclops to follow the trail to find her. A dead end forces him to turn into Micromax, but the disadvantage of not being able to see his foes anymore causes him to further change into the bulky Bezerker. He and Suzi make it to the telepad but soon find another challenge in front of them.
Streets of Rage
Streets of Rage is a 6-part story by Mark Millar, Peter Richardson and Frame. At City Hospital, Hawk's ninjas have been sent to take care of Axel Stone and Officer Murphy. Hawk himself has Max Hatchet at gunpoint and Blaze Fielding has come looking for him. When she is captured, the future looks bleak for the two heroes until an explosion rips through the foundry and Axel comes bounding in.
Decap Attack
Starring Chuck D. Head! is a 6-part Decap Attack story, the first in the series. Written and drawn by Kitching, with lettering from Steve Potter, the story follows the creation of Chuck D. Head at Castle Frank N. Stein. A freak thunderstorm provides the perfect conditions for Professor Frank N. Stein to revive a new corpse, but a fight between assistant Igor and the relatives of killed Kevin the Bat lead to Chuck 'losing' his head and having to be replaced by Head, a skull with less than half a brain. When it transpires that Chuck hasn't been decapitated, it starts the beginning of a beautiful partnership.
Features
The Control Zone has Megadroid welcoming Boomers to the celebration of STC being 10 issues old by gifting them with weird story, Decap Attack (with no other mention to other strips inside). There are also photos of celebrities such as Harry Enfield, Bruce Dickinson and members of The Clash playing with a Game Gear. The Sega Charts show that Jungle Strike and Sonic the Hedgehog 2 remain top of the Mega Drive and Master System/Game Gear charts respectively, whilst Final Fight moves to the head of the Mega CD list.
This issue's Review Zone causes some confusion, as Tony Takoushi and David Gibbon are both responsible for the articles but haven't been credited for each individual game. Despite this, both Streetfighter 2 and Aladdin are awarded 90%, Landstalker 80% and Wimbledon (all MD games) just 75%. The News Zone has a rundown of new Sonic games like Sonic the Hedgehog CD, Sonic Spinball, Sonic Chaos and Doctor Robotnik's Mean Bean Machine, as well as a preview of Toe Jam & Earl 2. Elsewhere are mentions of the new Mega Drive/Mega CD £249.99 combo and the Games World programme on Sky 1. Short Bursts covers Yumemi Mansion, Castlevania, the Laseractive console and more Mega CD releases.
In the Q Zone, Gibbon provides tips for OutRun, Terminator (GG), Taz-Mania (MS), Fatal Fury, Cool Spot (MD) and Black Hole Assault (MCD) while giving Game Genie updates on Streets of Rage 2, Sonic the Hedgehog, Pac-Mania and Bart vs the Space Mutants. Finally, Speedlines answers questions from a budding editor (with ideas for a contents page), a one-comic family, an expensive Game Gear peripheral and uses for free gifts. All winning entries received a Tomy Sonic the Hedgehog Water Fun Game.
Staff
Timeline
The previous issue of Sonic the Comic was Issue 9. The next is Issue 11.
Ad blocker interference detected!
Wikia is a free-to-use site that makes money from advertising. We have a modified experience for viewers using ad blockers

Wikia is not accessible if you've made further modifications. Remove the custom ad blocker rule(s) and the page will load as expected.