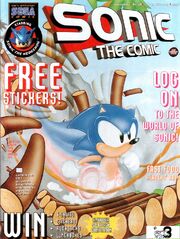 Issue 158
is the one hundred and fifty-eighth edition of
Sonic the Comic
, the UK's official SEGA comic. Released on the 16th June 1999, at the price of £1.30, the comic contained one original stories, three
reprints
, an Ambrosia Splatpack
competition
and a
free gift
of some stickers.
Contents
Strips
Sonic the Hedgehog
Bottled Up! is a complete story by Lew Stringer, Richard Elson and Elitta Fell. Sonic is attempting to lie low on Shanazar but is quickly noticed when he saves a whole town from an earthquake. Magician Mephistor admires his talents and steals his powers, concealing them in a bottle. Sonic is helpless without them but gets them back when another quake sees Mephistor almost fall to his death.
Features
This issue's Graphic Zone has the theme of Fast Food, with Sonic, Tekno the Canary and the Chaotix Crew enjoying a snack (or actually being one). Published pictures won Boomers a Sonic the Hedgehog watch.
Staff
Timeline
The previous issue of Sonic the Comic was Issue 157. The next is Issue 159.
Ad blocker interference detected!
Wikia is a free-to-use site that makes money from advertising. We have a modified experience for viewers using ad blockers

Wikia is not accessible if you've made further modifications. Remove the custom ad blocker rule(s) and the page will load as expected.