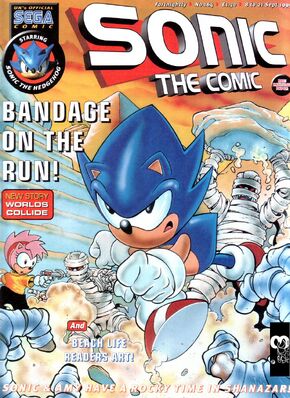 Issue 164
is the one-hundred and sixty-fourth edition of
Sonic the Comic
. Released on 8th September 1999 at the price of £1.30, the comic contains one new, original story and three
reprints
, as well as other features.
Contents
Stories
Sonic the Hedgehog
Worlds Collide is a 2-part Sonic the Hedgehog story, written by Lew Stringer, drawn by Richard Elson and lettered by Ellie de Ville.
In Shanazar, as Doctor Robotnik presents Princess Kupacious with a lovely new necklace, Sonic the Hedgehog and Amy Rose are still lost, this time fighting off the Mummy Boys of the Pyramid of Aggro. During the battle, Sonic is hit hard in the head and remembers how he got here - the Transportation Belt! Guessing that a wizard must have cast a spell on him to cause him to forget all about it, the hedgehogs speed back to Kupacious' palace. There, they learn that Robotnik plans to merge this world with Mobius, where he will rule everything. Kupacious isn't too happy, but her new necklace turns her into a frog, leaving Robotnik to do what he wants.
Features
This week's Graphic Zone is Beach Life, showing Sonic and friends relaxing on the beach and at sea. Winners of published pictures received a Sonic the Hedgehog watch.
Staff
Timeline
Ad blocker interference detected!
Wikia is a free-to-use site that makes money from advertising. We have a modified experience for viewers using ad blockers

Wikia is not accessible if you've made further modifications. Remove the custom ad blocker rule(s) and the page will load as expected.