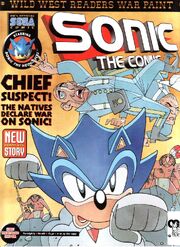 Issue 166 is the one hundred and sixty-sixth edition of Sonic the Comic, the UK's official SEGA comic. Released on the 6th October 1999, at the price of £1.30, the issue contained one original story, three reprints and a feature.
Contents
Strips
Earth Spirits is a complete story written by Lew Stringer, drawn by Mick McMahon and lettered by Elitta Fell. 1860's America sees native tribes fighting off the advances of U.S. soldiers. Chief Thundercloud is angry at the Shaman's insistence that the "spirits" exist, but is wrong-footed when Sonic and Amy Rose appear from nowhere to save them. When ousted as "intruders", the pair are locked away but something else seems to come to the Indians' rescue the next day...
Features
This week's Graphic Zone, in keeping with the main story of the issue, has the theme of the Wild West. Sonic, Knuckles the Echidna and Amy are seen in several cowboy-related pictures, with the artists winning a Sonic the Hedgehog watch each.
Staff
Timeline
The previous issue of Sonic the Comic was Issue 165. The next is Issue 167.
Ad blocker interference detected!
Wikia is a free-to-use site that makes money from advertising. We have a modified experience for viewers using ad blockers

Wikia is not accessible if you've made further modifications. Remove the custom ad blocker rule(s) and the page will load as expected.