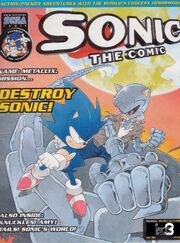 Issue 190
is the one hundred and nintieth edition of
Sonic the Comic
, the UK's official SEGA comic. Released on the 20th September 2000, at the price of £1.35, the comic contained five
reprint
stories and several features.
Contents
Features
The Data Zone gives a quick recap of all the major characters, this week being Sonic, Tails, Knuckles, Doctor Robotnik and Grimer. The Next Issue page promises a free gift of stickers and "top action" in the next edition.
Staff
Timeline
The previous issue of Sonic the Comic was Issue 189. The next is Issue 191.
Ad blocker interference detected!
Wikia is a free-to-use site that makes money from advertising. We have a modified experience for viewers using ad blockers

Wikia is not accessible if you've made further modifications. Remove the custom ad blocker rule(s) and the page will load as expected.