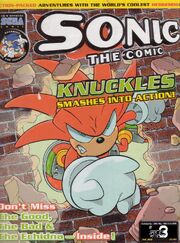 Issue 208 is the two hundred and eighth edition of Sonic the Comic, the UK's official SEGA comic. Released on the 30th May 2001, at the price of £1.40, the comic contained five reprint stories and a feature.
Contents
Features
This issue's Graphic Zone is similar in style to the very first Graphic Zone, with the pictures on display in no sort of format, just all over the page. One of the drawings has Tails wearing the same hat he did way back in Hero of the Year, while another ponders the appearance of Tails' mum, "Melissa Prower". Needless to say, this Graphic Zone's theme was Tails Up!.
Staff
Timeline
The previous issue of Sonic the Comic was Issue 207. The next is Issue 209.
Ad blocker interference detected!
Wikia is a free-to-use site that makes money from advertising. We have a modified experience for viewers using ad blockers

Wikia is not accessible if you've made further modifications. Remove the custom ad blocker rule(s) and the page will load as expected.