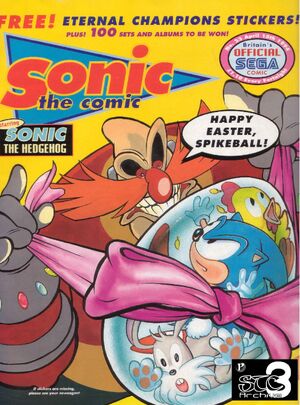 Issue 23 is the twenty-third edition of Sonic the Comic, the UK's official SEGA comic. Released on the 2nd of April 1994, at the price of £1.10, the issue contained four original stories, one of them new, and some Eternal Champions stickers, along with the chance to win more and a sticker album for them.
Contents
Strips
Sonic the Hedgehog
Pirates of the Mystic Cave is a complete story starring the Freedom Fighters and introduces Captain Plunder and his crew. Written by Nigel Kitching, drawn by Richard Elson and lettered by Ellie de Ville, we see that Sonic and his friends are in the Mystic Cave Zone to rescue Amy Rose who's been kidnapped by pirates. After fighting a number of empty Badniks, Sonic and Tails discover that Captain Plunder has taken Amy hostage in exchange for the Chaos Emeralds. Amy eventually brokers a plan which would see Plunder learn of various air freights belonging to Doctor Robotnik, in exchange for their help. However, Plunder seems to have other ideas.
Eternal Champions
The Eternal Champions is a 6-part story by writer Michael Cook, artist Jon Haward and letterer Tom Frame, loosely based on the fighting game of the same name. In this part, six of the heroes must fight the former colleagues of Rax Coswell in the The Cyberdome. The champions easily defeat them and steal their biologically-grafted ray guns. Teleporting out, they meet the rest of the champions at Nakano Industries, where the nine champions begin the final showdown with Nakano himself.
Shinobi
The Art of War is a 6-part Shinobi story, written by Alan McKenzie, drawn by Jon Haward and lettered by de Ville and is the second in the main series of Shinobi strips. Joe Musashi has been spotted in the Neo Zeed HQ and must now perform a series of deadly tasks to prove he is ready to fight them. A flashback involving his sensei reminds Joe that he can use any trickery he can to fool his enemies, so when he encounters nerve gas, he feigns death.
Wonder Boy
Wonder Boy in Ghost World is the second adventure for Shion, written by Mark Eyles, drawn by Bojan Djukac and lettered by Elitta Fell. After encountering a ghost dinosaur, Shion falls off some stepping stones towards the void between worlds, but is rescued by Lukout and her flying handkerchief. Unfortunately, they fall asleep as they pass through thick clouds. They wake up to discover Wordsmith, who had been captured by a quetzacoatlus and taken to its nest. The poet had barely escaped it and some other rampaging ghosts, but couldn't go home due to the clouds. After taking time to recite a new poem, the three are discovered by a ghost neanderthal and its mammoth.
Features
This week's Control Zone, hosted by Megadroid, introduced two new compilation books of Sonic the Comic. The two, Spin Attack and Beats the Badniks, bring together several of Sonic's early adventures in the comic, encompassing 8 out of the first 10 stories (omitting Lost in the Labyrinth Zone and Super Sonic). There was also news that the "STC Back Issues Service" would begin next issue,delayed once more. In the SEGA Charts, FIFA International Soccer returned to the Mega Drive chart at #1, Ground Zero Texas was a new game for the Mega-CD at the top-spot, Sonic Chaos remained top of the Master System chart and Olympic Gold moved up to claim the head of the Game Gear list.
Three games were reviewed in this issue's Review Zone. David Gibbon gave C.J. Elephant Fugitive (GG) 79%, while Vincent Low gave Aladdin (MS) and Subterrania (MD) both 85%. Information in this issue's News Zone included the 4-player J-Cart system, Dropzone coming to the Master System, the success of Virtua Fighter in the arcades, Wolfenstein for the Mega Drive, rumours about future "Virtua" games coming with a Sega Virtual Processor cartridge and this week's "Short Bursts", which covers a variety of sports games, along with a couple of superhero ones.
A competition was held in Issue 13 for people to spot 10 differences in a picture of Sonic smashing a Crabmeat. Top prize winners won a "Supersonic Pinball Game" as well as Cuddly Sonic and Tails toys. This week's Q Zone was an edition of "Sonic Solved", where Sonic games are covered. This time, tips are given for the first three levels of Sonic Chaos. In this week's Speedlines, Megadroid tells us the editor is saving up for a holiday to Bridlington, there's someone not happy with the "fake" letters from Doctor Robotnik and there's a poem. Owners of published letters and drawings received a Tomy Sonic the Hedgehog Water Fun Game.
Credits
Timeline
The previous issue of Sonic the Comic was Issue 22. The next is Issue 24.
Ad blocker interference detected!
Wikia is a free-to-use site that makes money from advertising. We have a modified experience for viewers using ad blockers

Wikia is not accessible if you've made further modifications. Remove the custom ad blocker rule(s) and the page will load as expected.