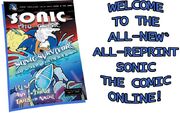 Issue 251 was actually an April Fool's Day joke, released on the 1st April 2010 at STC Online. It was advertised in the Message Zone as Issue 251, but was really a reprint version of Issue 224, with a few updates. The joke is a dig at Sonic the Comic's decision to become a fully-reprint comic, presuming it had lost its original fanbase.
Contents
Differences with Issue 224
Although the premise is that Issue 224 has simply been re-released, there are minor updates to the comic and stories.
A filter seems to have been added to several scenes in the Sonic story, making it look more like the heroes are travelling underwater.
The issue has been altered to fit in with the current theme of the comic. In fact, this special marks the end of that particular design of Sonic the Comic Online, although the cover seemed to show signs of the change that was to be made in the real Issue 251.
The Control Zone was entirely new, with Megadroid talking about STC-O's "marketing people".
The pin-up was altered to include new resolutions.
Staff
Timeline
The previous issue was Issue 250. The next is Issue 251. The previous special was Sonic the Back-to-School Special, the next being Hallowe'en Wallpapers 2010.
Ad blocker interference detected!
Wikia is a free-to-use site that makes money from advertising. We have a modified experience for viewers using ad blockers

Wikia is not accessible if you've made further modifications. Remove the custom ad blocker rule(s) and the page will load as expected.