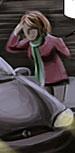 Kate is an employee at the North West Europe Regional Division of AMS and appears to be on good terms with the Rogan family. Kate was sent to meet the Rogans (and G) after their adventure with the Resurrection Men to inform them that they were needed at the Tower of London. She also enquired about the whereabouts of Alan (who had been killed by the Resurrection Men) but was not given an answer.
Appearances
Ad blocker interference detected!
Wikia is a free-to-use site that makes money from advertising. We have a modified experience for viewers using ad blockers

Wikia is not accessible if you've made further modifications. Remove the custom ad blocker rule(s) and the page will load as expected.