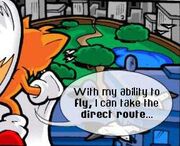 Liberty Park is an area of the Metropolis Zone. Nack the Weasel was spotted there in the story Just Like Old Crimes, so Tails sped there, knowing Nack would be gone by the time the police got there. In the skies above the park, Nack shot Tails out of the sky, leaving the fox to fall into a tree, next to two hedgehogs having a picnic.
The park probably got its name, and was created, after the fall of Doctor Robotnik in The Final Victory.
Ad blocker interference detected!
Wikia is a free-to-use site that makes money from advertising. We have a modified experience for viewers using ad blockers

Wikia is not accessible if you've made further modifications. Remove the custom ad blocker rule(s) and the page will load as expected.