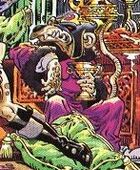 Liemould
is a
rat
who lives in
Castle Morbidden
with
Queen Vulpecula
. He appears to be little more than an advisor or lackey and is treated with disdain when he suggests the Queen should go out and look for
fox
cubs herself. He later comments that
Tails
,
Jimmy and Jilly
seem to be too small for Vulpecula's hunt.
Trivia
Liemould is the only non-goblin seen in Morbidden, suggesting an alliance between rats and goblins (or that the cowardly Liemould has defected in search of power).
Appearances
Ad blocker interference detected!
Wikia is a free-to-use site that makes money from advertising. We have a modified experience for viewers using ad blockers

Wikia is not accessible if you've made further modifications. Remove the custom ad blocker rule(s) and the page will load as expected.