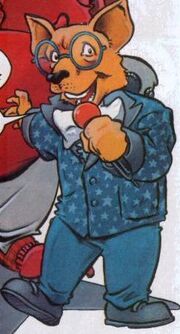 Matthew Corgi was the presenter of pirate television programme Mock the Doc. Like "all gameshow hosts", Corgi is highly excitable and has a tendency to punctuate his sentences with the sound "Wooo!" It isn't entirely certain whether or not Corgi worked alone in defying Doctor Robotnik as no cameramen, producers or pirate TV specialists were seen. Corgi was joined, however, by contestants Teddy Gormless and Bill Walrus.
Corgi is probably a parody of former light entertainment host Matthew Kelly, who hosted Stars In Their Eyes at the time the Mock the Doc story was published.
Appearances
Ad blocker interference detected!
Wikia is a free-to-use site that makes money from advertising. We have a modified experience for viewers using ad blockers

Wikia is not accessible if you've made further modifications. Remove the custom ad blocker rule(s) and the page will load as expected.