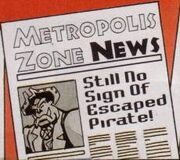 The Metropolis Zone News was a newspaper that existed during Doctor Robotnik's reign over Mobius. Like main competitor Mobian Times, the tabloid once led with the story of Captain Plunder's escape from Highview Corrective Centre. The MZN was also likely owned by Robotnik, although it is unknown whether or not the tyrant had a grip over all forms of media.
Appearances
Ad blocker interference detected!
Wikia is a free-to-use site that makes money from advertising. We have a modified experience for viewers using ad blockers

Wikia is not accessible if you've made further modifications. Remove the custom ad blocker rule(s) and the page will load as expected.