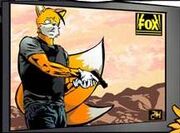 Miles Prauer Power Hour is the name of a television programme (or timeslot) dedicated to the adventures of Miles "Tails" Prower and his fight against Doctor Robotnik's invasion. The TV show, showcasing a buff fox acting as Tails, is an obvious parody of real-life show 24 and the Jack Bauer Power Hour, the hour in which 24 is shown (and the name of accompanying drinking games).
Trivia
"Prauer" is a mix of Miles Prower and Jack Bauer, the stars of their own shows.
It is unclear whether or not "..Prauer Hour" is the name of the show or just a colloquial name for the event, considering there is a 24 logo in the bottom of a TV.
The show is aired by Fox TV, a supposed rival to the Kane Broadcasting Company. Even so, the show is directed by Hobson and Choy, two people who were vital in KBC's smear campaign against Sonic the Hedgehog. It is likely that these two have left the company.
Norris Wimple is a huge fan of the show. Morain is not.
This series may have predescent in the movie about Amy and Tekno that was to be produced using two musclemen instead of Amy and Tekno.
Appearances
Ad blocker interference detected!
Wikia is a free-to-use site that makes money from advertising. We have a modified experience for viewers using ad blockers

Wikia is not accessible if you've made further modifications. Remove the custom ad blocker rule(s) and the page will load as expected.