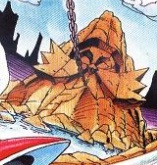 Never Mountain is a rocky peak adjacent to Never Lake. Before RBR, the mountain was unremarkable. After his domination of Mobius, however, Doctor Robotnik had his face carved into it and tethered the Miracle Planet to it with a giant chain. Even after Robotnik's downfall, the chain remains attached to the mountain.
Appearances
Never Mountain was not obvious during the events of The Brotherhood of Metallix, the chain appearing to just be attached to any mountainous part of Never Lake.
Ad blocker interference detected!
Wikia is a free-to-use site that makes money from advertising. We have a modified experience for viewers using ad blockers

Wikia is not accessible if you've made further modifications. Remove the custom ad blocker rule(s) and the page will load as expected.