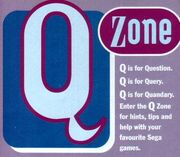 Q Zone was a regular feature in Sonic the Comic dedicated to helping Boomers with difficult video games. The section, manned by David Gibbon (although occasionally by Tony Takoushi at the start) featured games that received the most questions about them on the Data Strip or through Speedlines. Occasionally, a Q&A special appeared that actually posted reader questions with a brief answer. "Tips & Cheats" editions largely focused on cheat codes. There were also entire pages (and sometimes over several issues) on just one game, particularly a new one that was causing some trouble (such as Aladdin and Earthworm Jim). Occasionally, these would be "Sonic Solved!" segments for older Sonic games, largely to stop readers asking about the same games all the time.
Most editions of Q Zone had a "Game Genie update" that listed some Game Genie codes for selected games.
Sonic the Comic Online revived the feature on three occasions. The first two were manned by Stuart Gipp, one of which was a Sonic Mega Collection. Iain Stewart took over in Issue 246 to give a rundown on Sonic the Hedgehog's role in Super Smash Brothers Brawl.
Featured titles
The following list contains all games that appeared throughout the Q Zone's history on more than one occasion. Although several games appeared on more than one console, they have been consolidated for the sake of this list (at least for now). The only exceptions are the Sonic the Hedgehog series.
Each title is listed by the number of times it appeared:
Sonic the Hedgehog 3 - 17
Aladdin - 8
Sonic the Hedgehog 2 (GG/MS) - 7
Earthworm Jim - 6
Sonic & Knuckles - 6
Sonic Chaos - 6
Chuck Rock - 5
Ecco the Dolphin - 5
The Jungle Book - 5
Micro Machines - 5
The Lion King - 5
Alien 3 - 4
Batman Returns - 4
FIFA '95 - 4
Lemmings - 4
Ecco: The Tides of Time - 3
James Bond: The Duel - 3
James Pond: Robocod - 3
Jungle Strike - 3
Mickey Mania - 3
Revenge of Shinobi - 3
Sonic Spinball - 3
Alex Kidd in Miracle World - 2
Asterix - 2
Bart vs the Space Mutants - 2
Batman Forever - 2
Beavis and Butt-head - 2
Bubsy in Claws Encounters of the Furred Kind - 2
Earthworm Jim 2 - 2
Eternal Champions - 2
Fatal Fury - 2
Golden Axe - 2
Pete Sampras Tennis - 2
Road Rash 2 - 2
Road Rash 3 - 2
Robocop versus The Terminator - 2
Rocket Knight Adventures - 2
Rolo to the Rescue - 2
Silpheed - 2
Sonic CD - 2
Star Wars - 2
Streets of Rage - 2
Taz-Mania - 2
The Ninja - 2
Thunderhawk - 2
Tiny Toon Adventures - 2
Wonder Boy 3: The Dragon's Lair - 2
World of Illusion - 2
X-Men - 2
Special editions
On occasion, the usual Q Zone would be replaced by a special dedicated to one particular game. Many of them would run over several parts, especially when revisiting the Sonic games.
Ad blocker interference detected!
Wikia is a free-to-use site that makes money from advertising. We have a modified experience for viewers using ad blockers

Wikia is not accessible if you've made further modifications. Remove the custom ad blocker rule(s) and the page will load as expected.