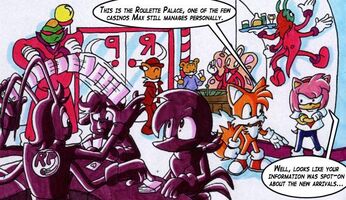 The Roulette Palace
is one of the few casinos in the
Casino Night Zone
still personally owned by
Max Gamble
. However, the building seems to have a hidden benefactor, also controlled by
Don Long-Legs
. Because of this, the Roulette Palace is one of the largest
insect
employers on the whole of
Mobius
, every employee being an insect refugee from the
Special Zone
. As well as insects, Gamble's influence sees slimy
lizards
working in his employ, although their positions are often closer to the head honcho.
In his office, Gamble has a picture of Mrs Gamble, his mum.
Appearances
Ad blocker interference detected!
Wikia is a free-to-use site that makes money from advertising. We have a modified experience for viewers using ad blockers

Wikia is not accessible if you've made further modifications. Remove the custom ad blocker rule(s) and the page will load as expected.