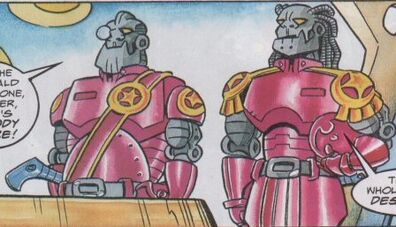 Rust and Bucket are two Badnik generals who served under Dr. Robotnik during RBR. They only appeared briefly in Issue 55 in part one of The Great Escape, reporting to the doctor in his office to tell him that the Emerald Hill Zone had been abandoned. Upon hearing this news, Robotnik lost his temper and smashed Rust and Bucket himself.
Ad blocker interference detected!
Wikia is a free-to-use site that makes money from advertising. We have a modified experience for viewers using ad blockers

Wikia is not accessible if you've made further modifications. Remove the custom ad blocker rule(s) and the page will load as expected.