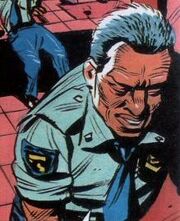 Sergeant Frank Feroccio (often just referred to as Feroccio) is a hard-working police officer from the Streets of Rage series. Feroccio, once a good friend of Blaze Fielding, replaced Murphy as the team's helper from inside and assisted them in their final recorded adventure. He was first seen working late in his office when he was approached by Dan about the bet started by Mr X. Feroccio's colleagues convinced Dan to leave Feroccio alone, not being "one of the guys", but the good cop followed Dan into the toilets and managed to beat information out of him, specifically the plight of the vigilantes.
Later, he rang a man named "Johnson" and informed him he still had some incriminating photographs that his wife wouldn't like to see. To keep the secret quiet, Johnson loaned Feroccio the use of a helicopter and a pilot, which was sent to rescue the vigilantes and transport them over East River. During the flight, Blaze revealed to Max Hatchet that Feroccio was Blaze's first partner on the force and was one of the only straight ones in the job. Once they were all safe, Feroccio met the gang at a bar in the Italian Quarter where they could all thank him for his assistance. Blaze attempted to get Feroccio to join them, but a combination of Axel Stone's bloody face and his arthiritic leg meant that the policeman was too old to fight on the streets. As a final word, he confessed there was hope for the streets while they were fighting.
Appearances
Ad blocker interference detected!
Wikia is a free-to-use site that makes money from advertising. We have a modified experience for viewers using ad blockers

Wikia is not accessible if you've made further modifications. Remove the custom ad blocker rule(s) and the page will load as expected.