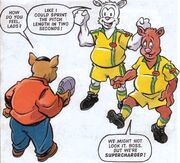 Shinpadzio are a football team who play on Mobius. Once considered one of the best teams in the world, they faced the "Reds" in the 1998 Mobius Cup Final. Unfortunately, the players had put on serious weight since their semi-final win and were far too unfit to challenge for the trophy.
In the story Football Lazy, manager Ronnie Dribble resorts to desperate measures to get his team in winning shape, stealing the powers of Sonic the Hedgehog and transferring them to his players. Unfortunately, the over-confident footballers cannot handle Sonic's great speed and end up playing abysmally, losing the game 22-0. Worse still, the club's chairman fires Dribble (just before the crook gets arrested), ending what could have been a great season for the Yellows.
Shinpadzio is presumably a portmanteau of shinpad (protective leg-wear designed to lessen the danger of harsh sporting incidents) and Lazio (an Italian football team from Earth).
Ad blocker interference detected!
Wikia is a free-to-use site that makes money from advertising. We have a modified experience for viewers using ad blockers

Wikia is not accessible if you've made further modifications. Remove the custom ad blocker rule(s) and the page will load as expected.