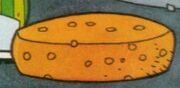 Slab-A-Cheese is the latest line from the Slurp-A-Cheese Factory, makers of novelty food Slurp-A-Cheese. Developed by George Curdle, the food is said to be so hard, you can build a block of flats with them. Although a fan of runny cheese, Curdle was forced to also provide Slab-A-Cheese after the Slurp-A-Kins began the "Hard Cheese Revolution". From then on, Tuesdays were to be called "Hard Cheese Tuesdays" after the advent of Slab-A-Cheese.
Appearances
Ad blocker interference detected!
Wikia is a free-to-use site that makes money from advertising. We have a modified experience for viewers using ad blockers

Wikia is not accessible if you've made further modifications. Remove the custom ad blocker rule(s) and the page will load as expected.