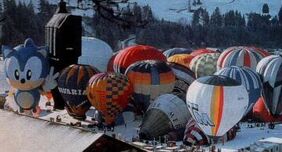 Sonic the Balloon
was a hot-air balloon designed in the appearance of
Sonic the Hedgehog
.
Sonic the Comic
Issue 3
showed it at its first public flight in Switzerland, towering over all other competitors. Supposedly, the total material used to make it could be stretched out to cover a football pitch! The balloon appeared at several sporting events that year, such as Formula 1 Grand Prixs.
The first of The Official Sonic the Hedgehog Yearbooks also showed it being towed by a Sonic the Hedgehog 2 van at the European Grand Prix where the Sega-endorsed Williams team competed.
Ad blocker interference detected!
Wikia is a free-to-use site that makes money from advertising. We have a modified experience for viewers using ad blockers

Wikia is not accessible if you've made further modifications. Remove the custom ad blocker rule(s) and the page will load as expected.