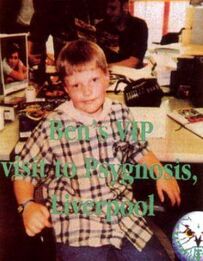 The Sony Psygnosis competition was a competition with a prize of a VIP tour of the Sony Psygnosis offices in Liverpool. The initial feature appeared in Issue 42 (currently missing from the STC Archive scan) and invited Boomers to answer the following three questions, based either on Psygnosis games or Liverpool:
Q: Who does Flink have to tackle to save his land?
Q: Psygnosis has produced many top-selling games over the years. Can you name them (any format)?

A: Lemmings, Puggsy, Whiz 'n' Liz, to name a few.
Q: Name the famous river that flows through Liverpool.
Prize-winning entrants, issued in Issue 50, were (not really) picked from an old pair of Kenny Dalglish's shorts, with the overall winner being Ben Tucker of Reading. Five runners-up received a copy of Flink for the Mega Drive, while 50 others had to make do with a full colour Flink poster.
Tucker wasn't to win just that, however. The winner sent in a letter to Speedlines (appearing in Issue 58), stating that he had a tour of the offices and learned how computer games were made. The youngster won a bag of games, poster, t-shirts and "CD's" [sic], before receiving a photo of himself adorned with text added by a computer. The combination of the letter and photo won Tucker a Sonic Stationary set, his second prize from Sonic the Comic.
Ad blocker interference detected!
Wikia is a free-to-use site that makes money from advertising. We have a modified experience for viewers using ad blockers

Wikia is not accessible if you've made further modifications. Remove the custom ad blocker rule(s) and the page will load as expected.