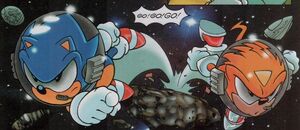 Space Race
is a 2-part
Sonic the Hedgehog
story that began in
Issue 161
of
Sonic the Comic
.
Staff
Story
Sonic and Amy Rose are still touring Shanazar and, upon discovering an advanced Zone, are looking forward to relaxing somewhere where nobody knows them. Unfortunately, their arrival is noticed by the public, who know who the hedgehogs are and have been watching their recent adventures through micro-cameras. Because of their bravery and excitement, Skorrg has chosen them to represent the city in the "Space Race" and, before Sonic can totally refuse, the two hedgehogs are beamed above Skorrg's ship. Sonic is quickly subdued and convinced into racing with Amy's life at stake. Beamed down to an asteroid, Sonic meets opponent Turbo and learns that he must win if he wants to see Amy again. During the race, Turbo confesses that his family will be killed if he loses. Fortunately for him, Sonic isn't used to running in zero gravity and the alien gains an advantage.
Back at the crossbow, a scowling Amy has had her crossbow confiscated but still has a headband. She quickly uses it take out Skorrg's assistant and pilot and is able to transmit to Sonic that she has taken over Skorrg's ship. The message relieves Sonic as he has lost the race. However, Turbo reveals that the loser's ship is to be destroyed by the rival ship! Sonic tells Amy to escape, but the pilot is down and she nor Skorrg have any idea how to fly the ship. Fortunately, her experience with ships helps her learn quickly and she is soon able to fly away from the Vargz challengers. Skorrg's ship is unable to outfly the rivals for too long and the controls are eventually shot out.
Before the Vargz can fire the finishing shot, they summon Turbo back but Sonic also leaps into the tractor beam, appearing on the enemy's bridge. Sonic starts to tear through the crew but his over-confidence leads to him getting zapped. He's soon assisted by Turbo, giving Sonic enough time to recover and launch a Spin Attack on the last Vargz member. With both crews under hedgehog control, Sonic orders the Vargz to tow them back to where they picked them up. Back on solid ground, Sonic urges them to move on in case Doctor Robotnik is trailing them. Sure enough, Grimer has picked up sightings of them but Robotnik orders him not to pass on the information to Princess Kupacious. He has his own surprise for his "little blue friend".
Trivia
Neither the Vargz or Skorrg's race appeared again.
Timeline
The previous Sonic the Hedgehog story was Knightmares. The next is Medusa.
Ad blocker interference detected!
Wikia is a free-to-use site that makes money from advertising. We have a modified experience for viewers using ad blockers

Wikia is not accessible if you've made further modifications. Remove the custom ad blocker rule(s) and the page will load as expected.