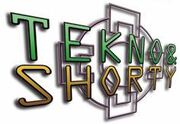 Tekno & Shorty is a series of stories exclusive to Sonic the Comic Online, starring the titular Tekno the Canary and Shorty the Squirrel. The saga began with Sunrise, although four stories connected to these began under the Sonic's World banner with Return of the Cybernik!.
The group of stories follow Tekno and Shorty in another world, beginning six months after they were dragged away from Mobius through the Ring of Eternity. Shorty settles into the primitive quite well, using the gold from Tekno's earrings to produce goods to sell at market. Tekno adjusts notably less well, scrawling equations on their cave wall in order to find a way back home. Shorty's business gets as far as the town's Regent, who invites the squirrel to his palace. However, the meeting is actually a ruse to separate the heroes; Tekno is captured and Shorty is forced to fight Slave One, the monster he fought in his STC-O debut, in order for the Regent to win a new kingdom's money. Shorty loses the fight and the slave takes Shorty and Tekno as his prize. The pair wake up to discover themselves in the Pyramid of Atum, home to Set, a minor villain who Tekno, Amy Rose and Sonic the Hedgehog once defeated. Wanting revenge for being sucked into the limbo of space, Set has established himself in charge of a large group of slaves forced to do his bidding.
While being kept in a prison cell, Tekno convinces the majority of the slaves to rise up against Set and Slave One in order to gain their freedom. As the slaves rise up against their masters, Tekno finds Set and seemingly kills him. When Shorty recovers from his earlier battle, the pair, along with the slaves, attempt to find the Ring of Eternity. They soon find it and head there in order to return home. However, the slaves discover that Set has gone missing. Tekno and Shorty clash on the way there, arguing over whether or not Tekno killed Set. The point is considered moot when they discover a Cybernik-armour-clad Set beside the Ring of Eternity. A final battle occurs between Shorty and Set, while Tekno powers up the Ring. When ready, Tekno finishes the job and kills Set, but Shorty does not want to go home. Tekno rejects Shorty's plea to stay there and locks his armour up. She then proceeds to drag Shortfuse back to the Emerald Hill Zone and destroys the Eternity ring behind her. With war on Mobius in full flow, the relationship towards the two seems to be over.
Reception
Acceptance of the series has been largely negative, particularly since Tekno was seen to kill Set, bludgeoning him with his own weapon. This individual act has been said to have "ruined Tekno forever". Shorty's motives for not wanting to return to Mobius were also questioned, since the last few weeks in this world have been disasterous. Artist Chris G defended the series, lauding Shorty and Tekno as two of his favourite characters, but also joined readers in his displeasure of the final parts. Mike Corker and Tom Huxley insisted that there had been no "retcon" as some fans had suggested and that it was always their intention to have Set survive.
Vocal readers hoped that there would be no more stories starring Tekno & Shorty, despite the final caption of Come Crashing Down! indicating they would return. Indeed, some have compared the Tekno & Shorty series to the Time Zone arc .
Stories
Ad blocker interference detected!
Wikia is a free-to-use site that makes money from advertising. We have a modified experience for viewers using ad blockers

Wikia is not accessible if you've made further modifications. Remove the custom ad blocker rule(s) and the page will load as expected.