The Official Sonic the Hedgehog Yearbooks are not directly related to Sonic the Comic, beginning printing before the original 1993 publication of the fortnightly comic and owned by a different company, Grandreams Ltd. However, they are notabale for including the earliest Sonic the Hedgehog-themed comic work made available in the U.K., and including a detailed account of the "Kintobor origin" of Doctor Robotnik (also used in the STC backstory) as a text story. They also feature seminal contributions (albeit uncredited) from key STC artists Richard Elson and Jon Haward, and the scriptwriter Alan McKenzie.
There were two volumes of Yearbooks published, released in "1991/2" and "1992/3" respectively. The first year in each date represents the date of copyright registration; the latter the actual year of publication.
1991/2 Yearbook
Staff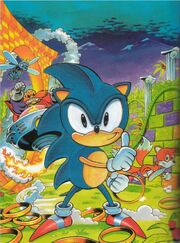 Sonic Comics
Other Comics
Features
1992/3 Yearbook
Staff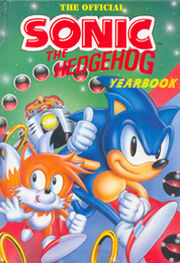 Sonic Comics
Other Comics
Features
Fleetway-Grandreams Co-Operation?
The relationship of the contents of the yearbooks to STC continuity is unclear. The Sonic stories are all entirely standalone oneshots and do not reference any other details. However, the theme of The Dark Circle, Joe Musashi's search for Naoko and his quest against the Neo Zeed, was picked up again in STC and The Fear Pavilion.
Ad blocker interference detected!
Wikia is a free-to-use site that makes money from advertising. We have a modified experience for viewers using ad blockers

Wikia is not accessible if you've made further modifications. Remove the custom ad blocker rule(s) and the page will load as expected.