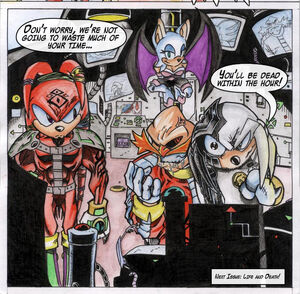 The Syndicate was a terrorist group led by Doctor Zachary. From their flying fortress, the Death Carrier, they planned to use the Chaos Siphon to set off a chain reaction that would have destroyed Mobius, but were foiled by Sonic using a Chaos Tap. They are also responsible for stealing the Chaos Emeralds and using them to destroy the Special Zone. The group has since disbanded.
Members
Ad blocker interference detected!
Wikia is a free-to-use site that makes money from advertising. We have a modified experience for viewers using ad blockers

Wikia is not accessible if you've made further modifications. Remove the custom ad blocker rule(s) and the page will load as expected.