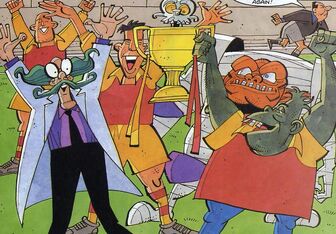 Transylvania United
(known to their fans as
The Garlics
) are a
football
team based in
Transylvania
. Although a decent team of players, they are usually pitted against
Black Forest Gateaux
in the
Slurp-a-Cheese
Cup Final, a competition officiated by the "boss" of the novelty food company.
Despite losing several years in a row, United's luck improves in the 1997 final. With the score at 2-2 and Gateaux awarded an unfair penalty, Head intervened by replacing himself with the match ball and clamping onto the opposition's foot when going for a kick. Head then threatened the player, vowing to bite his foot off if he didn't do what he said. Consequently, the striker hopped to the other end of the pitch and blasted Head into the goal, winning the cup final for Transylvania United.
Trivia
United's only fans seem to be the inhabitants of Castle Frank N. Stein. Igor evens owns a replica shirt, but is pessimistic about their chances.
With the score tied at 2-2, Frank states that the match will probably be a "draw". In most real cup finals, a draw usually goes onto mean extra time and a penalty shootout.
The United player accused of "pulling a rude face inside the area" seems to have no hair, rather a skin-coloured protusion from his head.
Appearances
Ad blocker interference detected!
Wikia is a free-to-use site that makes money from advertising. We have a modified experience for viewers using ad blockers

Wikia is not accessible if you've made further modifications. Remove the custom ad blocker rule(s) and the page will load as expected.