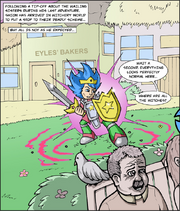 Wonder Boy in Witchery World is a complete story in Issue 266a- it is also the only story in that issue.
Staff
Story
Shion arrives in Witchery World on the hunt for the Wailing Sisters and is immediately surprised to see that everything looks completely normal and there are no witches to be seen. A passer by tells Shion that Witchery World is, in fact, named for its founder, Sir Gerald Witchery and there haven't been any witches in the area for months ever since the Wailing Sisters were burned at the stake. Deciding that resolves everything, Shion retires on the spot and lives out his days with Baila in the fishing town of Fisherton where nobody ever called him Wonder Boy ever again.
Trivia
While this story was written as the true conclusion of STC's Wonder Boy series, it was written as an April Fools Day joke, hence its short length and deliberately underwhelming "adventure".
At just four panels in length, this is the shortest story in Sonic The Comic's history. This is almost fitting when one considers the first Wonder Boy story, Wonder Boy in Demon World, is the STC story with the most instalments.
Numerous references are made to former Wonder Boy exploits- the front cover of Issue 9 is framed on Shion's wall in the final panel and; writer Mark Eyles has a bakery named in his honour and artists M DJ Boyann and Bojan Djukac are merged to form the musical artist DJ Bojann (which may well be appropriate since there is a suggestion both artists could be the same person working under a pseudonym), seen on a discarded flier. On the cover of the newspaper Shion reads, the box art for Wonder Boy in Monster World can be seen- that game serves as a prologue to the STC comics.
The newspaper Shion reads is The Mucky Muck Times, a reference to the song Wonderboy by comedy rock band Tenacious D.
Ad blocker interference detected!
Wikia is a free-to-use site that makes money from advertising. We have a modified experience for viewers using ad blockers

Wikia is not accessible if you've made further modifications. Remove the custom ad blocker rule(s) and the page will load as expected.