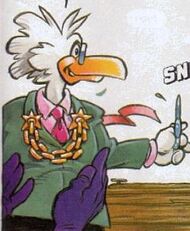 Zone Leaders
are the governing figures of post-
RBR
Mobius
. Rather than adopt a new central government to occupy the position that
Doctor Robotnik
once held, the Mobians - under suggestion from
Sonic the Hedgehog
(in "
Vote For Me
") - decided that each
Zone
should have its own ruler.
Most Zone Leaders are democratically elected, and they tend to distinguish their office with a mayoral-style medallion. Known exceptions to the democratic model include the Coal Creek Zone, where the Zone Leader is a military dictator ruling by force; the Hill Top Zone, which retains its traditional aristocracy and nobility; and the Chemical Plant Zone, a corporate canton with the Marxio Brothers as its executive directors.
Known Zone Leaders
Steve Owl - former leader of the Hidden Zone before the idea of Zone Leaders was implemented. Now a member of the Emerald Hill folk.
Sharka Khan - no longer the ruler of Trituna when he was discovered to be fleeing from danger by his followers. They decided to rule in a coalition between them, despite Sonic's worries about how well that will work.
The vole leader of the Ocean Falls Zone (with Nack eyeing him with hungry eyes).
The Jungle Joyride Zone has a king. He was forced to flee when Robotnik overran the zone.